50+ YEARS EXPERIENCE
Trash Control owned and operated by the Freeth family.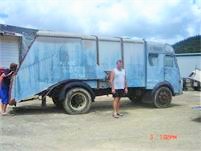 The Freeth family have been involved in the waste industry since the 1960's. Here is a truck that use to be operated by the late Murray Freeth. Chris as a youngster can remember sitting on the engine cowl driving around Auckland.
Comprehensive Waste Disposal Solutions

Trash Control Ltd specialises in sustainable waste disposal in the greater Auckland area. We have skip bins for hire and can arrange for any other type of waste disposal. All waste we collect is recycled whenever possible.

Highly Efficient Service

Here at Trash Control Ltd, we aim to provide the most efficient service in the rubbish skip bin hire and waste industry for years to come. We have a solid reputation and are confident that our experience and expertise will cater to all of your skip bin requirements in Auckland

Quick-Response Service

Whether you need one or multiple skip bins, for short or long term, Trash Control Ltd in Auckland guarantees prompt drop off and pick up. We'll bring your skip bin to your home or work site without delay and then, once it's full, take your waste away quickly and efficiently.

Hassle-Free

For hassle-free waste disposal, you can't beat Trash Control Ltd. We make managing your waste simple and easy, with a great range of skip bins for hire, excellent service, and simplified processes. With your waste taken care of, you can get back to the more important things more quickly.

Recycling

At Trash Control we are passionate about preserving our environment. We recycle your rubbish as much as possible. This plays a significant role in saving landfill space and achieving a cleaner greener New Zealand. How can you help? Let the driver know when delivering your bin what items you are disposing of so we can recycle as much as we can.
Not sure what size to get?
No problem – just give our friendly team a call on 09 818 1344 and we will be able to assist.